Languages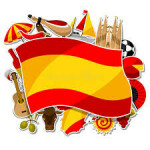 Our aim is to develop the confidence and competence of each child in the foreign language they are learning. Our goal is for them to be passionate, curious and confident about their own foreign language learning abilities when they finish the primary school phase of their education. We aim for all children to speak with increasing confidence, fluency and spontaneity, finding ways of communicating what they want to say, including through discussion and asking questions, and continually improving the accuracy of their pronunciation and intonation.
We also aim for children to write at varying length, for different purposes and audiences, using the variety of grammatical structures that they have learnt. We will extend their knowledge of how language works and explore the similarities and differences between the foreign language they are learning and English. In order to do this,we use Language Angels to teach Spanish to the children in Key Stage Two. This programme allows us to listen to the spoken language and respond so we begin to ask and answer questions. We then start to communicate and engage in conversations with growing confidence. We also read and understand a range of vocabulary and phrases to broaden our vocabulary and develop our ideas in writing. 
National Curriculum documents for Languages
Key Concepts for Language Learning in Key Stage 2
Year 6 role playing in Spanish
Year 3 using sock puppets to hold a conversation in Spanish while in lockdown!